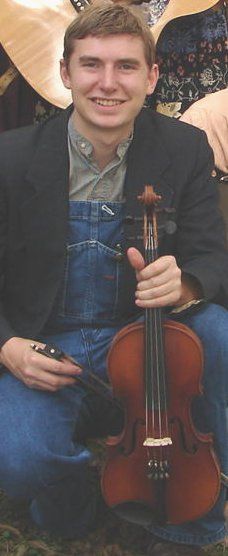 Austin Stovall
, originally from Scottsville, Ky, comes from a musical family. His great grandfather played the "tater bug" mandolin, harmonica, and jaw harp. He received his first banjo at Christmas on his 14th birthday and has been playing
clawhammer banjo
since. Austin also plays
fiddle, mandolin, and guitar
. Austin has learned Old-Time music through personal research, playing with old and new recordings, and playing with other musicians in East Tennessee. Austin is a "natural" when it comes to playing stringed instruments. Austin is recently married to Holly and lives in Clinton, TN.
Sandee Rose
lives in Knoxville, TN and plays
stand-up bass and lap dulcimer
. Born and raised in California, she has also lived in the Pacific Northwest, Nevada, and New England. When her travels took her to Georgia, she found Old-Time Music and lap dulcimer. That led to her on-going love affair with the stand-up bass. On bass, she played with "Barnstorm" for contra dances all over Florida and "Full Circle Band" for English dances in Jacksonville. She has had many dulcimer students and has written a book for new students. Her CD, "The Next Ridge" was recorded in 2007. Sandee is learning to call dances and with BTG, she keeps a great steady beat on that bass.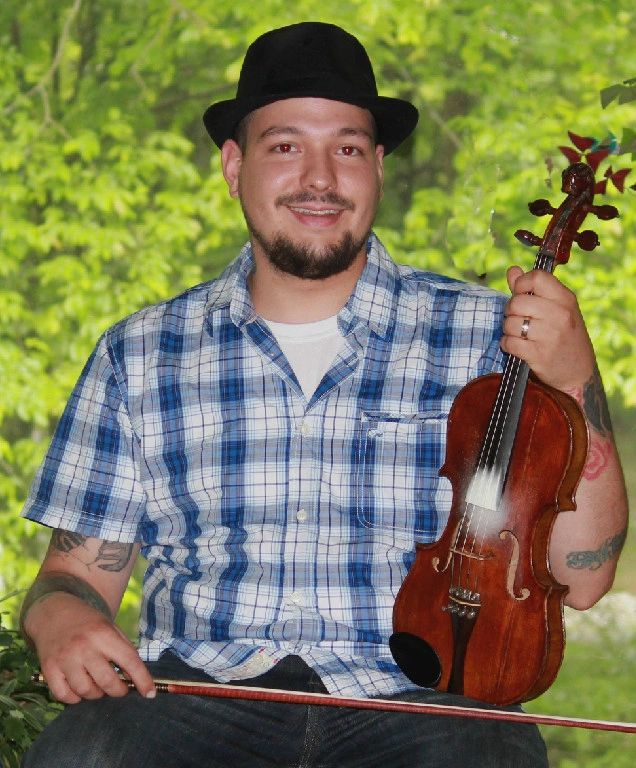 Jesse Wine
, born in Newport, TN, now lives in Sevierville, TN, where he is a fudge maker by trade. Jesse started playing music at the age of 12 on mandolin when he was exposed to old gospel tunes and social gatherings at his father's house. He even played guitar with a heavy metal rock band, whereby he also acquired his tattoos. After meeting the woman to become his wife and the discovery of his ancestral roots with West Virginia Old-Time music, Jesse has given up rock music and taken up the Wine family Old-Time fiddle tradition, spanning over 8 generations since the 1700's. Jesse is the
great-great nephew of Melvin Wine
, world renowned fiddler from Stouts Run near Copen, West Virginia. He also plays the bones and a little clawhammer banjo.



Barbara Wine
is, you guessed it, Jesse's spouse. Barbara is a native to the village of Wola Baranowska (pronounced Vo-la Bear-uh-nov-skuh), Poland and met Jesse at the Cracker Barrel in Pigeon Forge, TN while she was an exchange student. They fell in love and decided to marry in 2009. Jesse's growing interest and love for Old-Time Music prompted him to ask Barbara to participate in playing the music, so Jesse's grandparents built her a washtub bass!! She was a bit hesitant to play at first (she's kind of shy), but now she's played tub bass with Jesse at the Laurel Boomery Festival where she received accolades from the Roan Mountain Hilltoppers tub bass player, Janice Birchfield. She also played with BTG at several venues and has even started backup singing. Barbara has a lot of fun listening to and playing the traditional folk and Old-Time music of this country and is getting pretty darned good at that washtub bass.
Other musicians that have played with Boogertown Gap over the years have been:
Dave "Fiddle Man" Pierce
, fiddle
Anthony "Salvestor" Franco
, washtub bass, guitar, washboard, vocals
Pam Watson Munson
, washtub bass, flat foot dancing
Scott T. Walter
, fiddle, vocals
McLean Bissell
, guitar, upright bass
Brenda Pickel Hughes
, washtub bass
Alex Morris
, flat foot dancing