Okay, this is what it's all about, the music! It's not easy to define Old-time music but you sort of know it when you hear it. And it's not possible to describe the music without inserting some of its history. As Mark Humphrey suggests, we may interpret Old-time music as
hopelessly outdated but deeply authentic music
. You can find even more discussions and perceptions of Old-time music from several Internet web sources (see our Links page) and most have a little different twist to what Old-time music is about. But here, we'll try to give our perception of what it is, though it may differ from others.
First, it's
not
Country and it's
not
Bluegrass although each of these styles evolved to some extent out of Old-time music.
Today the music referred to as Old-time or Old-timey spans over three centuries of music history in North America. This music captures most kinds of folk or traditional music that was predominant before th
e early radio and recording era (more on that later) and includes a broad range of songs, fiddle tunes, ballads, spirituals, marches, and dance tunes that arose from music that both originated and developed from as long ago as 16th century to the early 1900's. The music Old-time musicians play now, with a few exceptions, is music of this time period. The music was often original to Europe and Africa, perhaps elsewhere, and brought to this country with the slave trade and immigration. Each brought with them a culture and its music, with their favorite instrument to suit the music. Sometimes this instrument was simply the voice. They then carried on their musical culture as new inhabitants of this country, maintaining where possible through oral and musical means, their musical expression. Over time, the music was adapted by its performers to suit particular times, feelings, needs, and instruments, and the tunes changed. Hence, some popular ballads and tunes have over 100 versions through time and current versions hardly resemble their centuries old counterparts.
The Minstrel era of the mid-1800's saw a tremendous rise in the composition and popularity of this type of folk music. With the adoption and development of the banjo, an instrument whose precursor was imported from western Africa. As western Africans were imported to the New World, they brought along these banjo-like instruments or fashioned them once in the New World. Musicians of the Minstrel era learned to play the banjo from slaves and possibly free blacks, and quickly adopted the banjo as an important instrument to accompany their songs and tunes. Together with the fiddle as the primary Old-time instrument, this music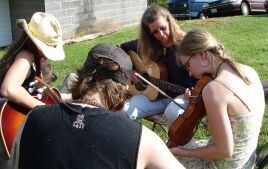 was mixed and melded by the interaction of thousands of musicians and their instruments during the Civil War. Soldiers learned new songs, composed new tunes, changed more of them, and brought them home to the hills and hollows of the mountains, spreading the music far and wide. Still today, the fiddle and banjo combination form the foundation of the hard driving rhythms of Old-time music. Many other instruments have long been associated and played with Old-time music; it simply depended on what the musician played or had access to: a French harp (harmonica), bones, spoons, pan pipes, accordion, washboard, foot stomping, dulcimers, autoharp, washtub bass, mandolin, or guitar. Finally, this music is not "Show" music. It may be seen and heard in a show, on stage, maybe the Grand Ole Opry, but it is largely a front or back porch, barn, or living room kind of music where the players gather around in a circle, their knees often touching, and commence to playing. It's an intimate musical expression that pours out through the voices and the instruments of the musicians.
Then, during the 1920's through the 1940's, the media industry began to bring "Hill Music" to the American people through the radio and record
industry and the music was called "Hillbilly" music. Mountain musicians were sought under the pretense that this is where the old traditional folk music was best preserved. Truth is, during the decades following the Civil War, this music was spread far and wide across North America. The term Old-time really came about as one recording company used the term to identify the music and musicians of rural mountainous areas who began to play on radio and record their music. It was a euphemism for "Hillbilly" and readily accepted by the old timers. As this style of music gave way to the development and sounds of Country and Bluegrass, Jazz, and Blues, Old-time became less popular to the masses but retained its vitality among its players and singers. During the 1960's, Old-time music began a revival that has continued to thrive and has seen the resurgence of Old-time string bands, festivals, magazines, instructional camps, books, videos, etc. not only in North America but worldwide.
Boogertown Gap attempts to stay "traditional" by performing music from the pre-recording industrial period, playing a lot of tunes from the minstrel antebellum period and the years during and after the Civil War. Ruth also reaches way back and sings old ballads, one of which can be traced back to 1537! As timeless as the music is, it is Old-time.
Little known facts about Old-time music:
Not only did enslaved Africans bring prototype banjos to the US about 400 years ago, they may have also introduced Okra to our shores!
"She'll Be Coming Around the Mountain" could be a song about Mother Mary Harris Jones' efforts to establish and organize labor unions to protect workers.
Superstitious fiddlers believe you're not supposed to fiddle after midnight. Fiddler Old Pete Hammons of West Virginia had to burn his fiddle one night after it kept playing "Devil in the Woodpile" after he went to bed. You see Pete played for a dance well past midnight, and that was his mistake. It's reported he never played fiddle again after this episode.
We hope you enjoy the way we express Old-time music. Please visit our Music and Merchandise
page to listen to samples of the music. Enjoy.


For bookings, rates, and additional information please contact us at:


boogertowngap@comcast.net

or

865-430-5968